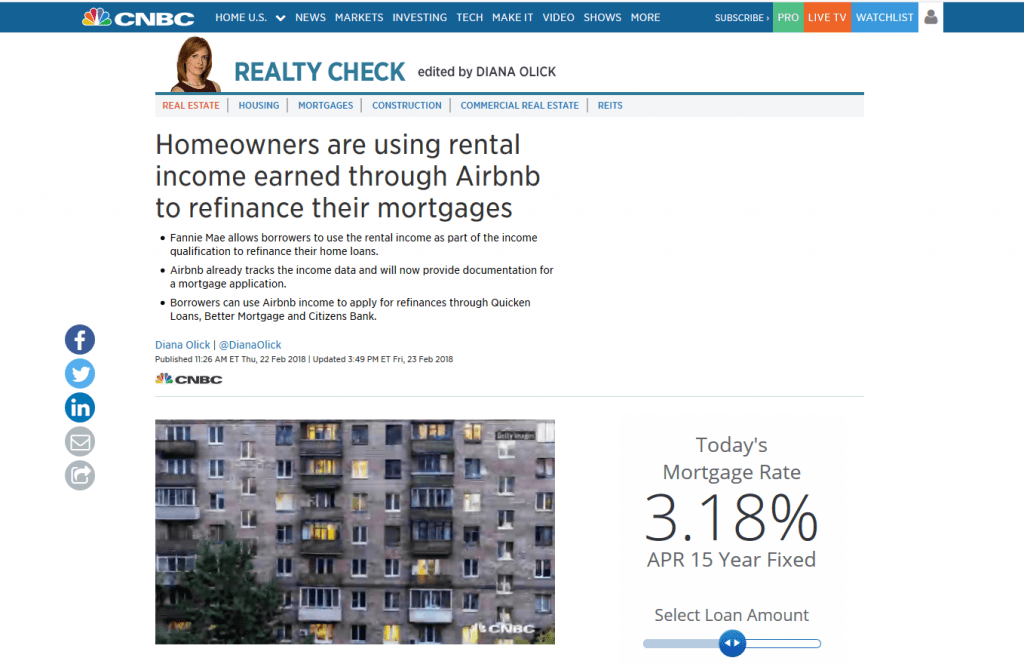 From CNBC: Homeowners are using rental income earned through Airbnb to refinance their mortgages
Did you know you can now use your rental income generated from Airbnb as a tool to help you refinance your home? Under a new pilot program developed by Fannie Mae, certain banks will now recognize sustained income generated by "home sharing" website Airbnb. Of course there are a couple rules:
Borrower is required to have at least 12 months of documented earnings (which is already tracked by Airbnb)
The home must be the borrowers principal residence
The borrower must use one of three lenders: Better Mortgage, QuickenLoans or Citizens Bank (one would imagine if the pilot program is successful it will be opened up to all lenders.)
From the CNBC article: "Because of the sharing economy, the way people use their homes has changed … and now finally the mortgage industry has caught up," said Vishal Garg, CEO of Better Mortgage. "We are able to use that income in actually underwriting the value of your house, your ability to make a payment on that loan, and then qualify you for a lower rate."
Remember, at Fidelity Land Title Agency, we're always here to answer your questions. If you would like to discuss more feel free to reach out to me.
– David Kennedy