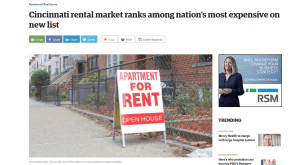 Cincinnati Business Courier Article
While we love the Queen City, this is a list we don't want to be at the very top of.
According to this Cincinnati Business Courier article, a study by real estate investment firm Home Union, Cincinnati ranks second in a list of the nation's most expensive rental markets! On average, Cincinnatians are spending $15,768.00 per year on rent. When compared to average income we rank only second to Oakland, CA!
With rents so high, why not buy? With rates still low, it might make sense to take a look at what is available in your area. There are lots of great Realtors and lenders in the greater Cincinnati area who can help guide you through the process. Whether you're a renter tired of paying a landlord, or an investor interested in real estate who's looking for a steadier ROI, they are there to help.
Remember, at Fidelity Land Title Agency, we're always here to answer your questions. If you would like to discuss more feel free to reach out to me.
– David Kennedy