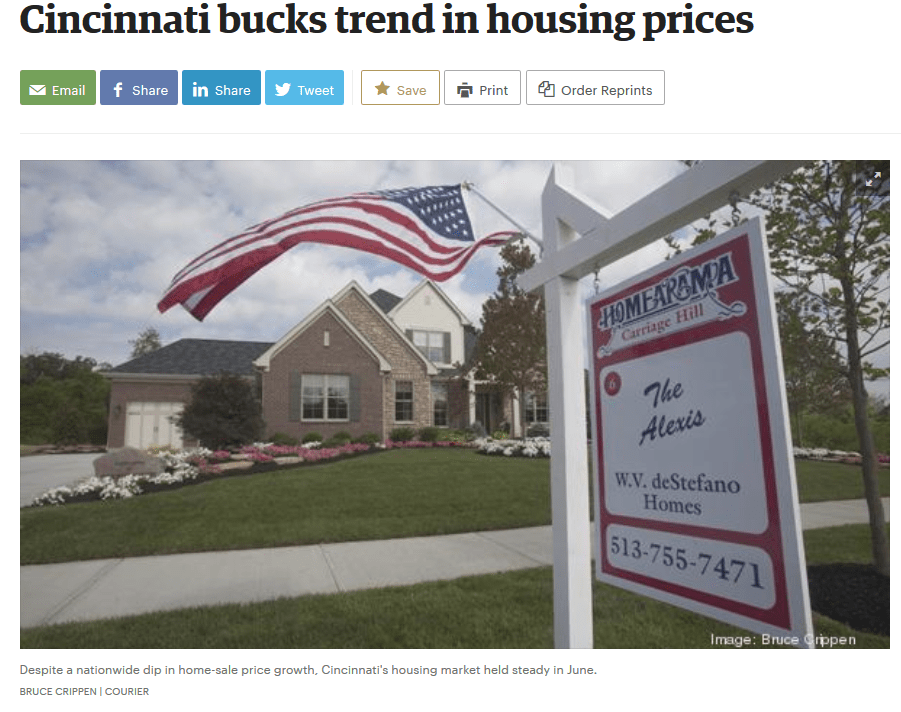 Anyone involved in the real estate market this summer knows the story. Despite a gradual rise in interest rates, the market has been red hot. An inventory shortage and influx of new buyers (including millennials) has resulted in a strong sellers' market.
While this has kept us all very busy this summer, experts warn of signs of a slowdown nationally. Check out this article from CNBC about it:Housing market is showing signs of cracking: 'Anything-goes list-price strategy is no longer working'
But here's the good news…. While the nation as a whole has been slowing down, Cincinnati has been bucking that trend!
According to REDFIN and from this bizjournals article: Cincinnati bucks trend in housing prices

"sale prices for Greater Cincinnati homes at 11.4 percent higher over the prior year. Cincinnati's growth is double the national average for the same time period at 5.7 percent year over year."
"Greater Cincinnati's residential price surge makes it the fourth-fastest accelerating metro on Redfin's list, outpaced only by San Jose, Calif. (22.4 percent), Las Vegas (12.8 percent) and Oakland, Calif. (11.9 percent)."
So let the red hot summer market keep on rolling here in the tri-state. Only time will tell if slowdown catches up with the Queen City or if we keep on keepin' on.
As always, we're always here to answer your questions at Fidelity Land Title. Please reach out to me if you would like to discuss more. Make sure to like our Facebook page for updates and news!
Dave Kennedy