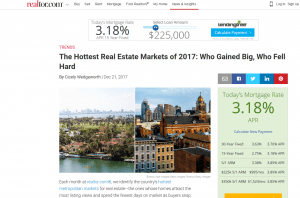 Realtor.com Article: "The Hottest Real Estate Markets of 2017: Who Gained Big, Who Fell Hard"
According to this Realtor.com article, Cincinnati was the biggest gainer on their yearly list of hottest real estate markets in America. The Queen City "jumped 53 spots to land at No. 64 on the overall hottest markets list (drawn from the 300 largest metropolitan areas)."
Cincinnati ranks number one, directly ahead of Las Vegas, NV and Riverside, CA which round out the top 3. So what makes these cities so hot right now? It's their relative affordability. Unlike other metropolitan areas throughout the country, with a median list price of just $217,000.00 Cincinnati is actually affordable for buyers.
"Cincinnati is all about relative affordability; it's one of the last affordable pockets of inventory available in the country," says Javier Vivas, manager of economic data for realtor.com.
So what's holding you back? There are many great Realtors and loan officers in the area that can help you make the move.
Remember, at Fidelity Land Title Agency, we're always here to answer your questions. If you would like to discuss more feel free to reach out to me.
– David Kennedy