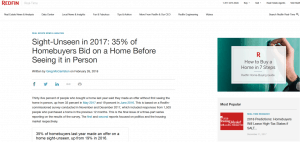 Sight-Unseen in 2017: 35% of Homebuyers Bid on a Home Before Seeing it in Person
According to this Redfin article and a poll they completed last year, 35% of home buyers in 2017 made an offer without ever seeing the home in person. That's up 33% from the previous year. Due to a high demand and low supply of homes, people were willing to roll the dice a place a bid before ever setting foot in their potential new home.
One might ask who is most likely to bid on a house site-unseen? The answer is Millennial's. Of the millennial homebuyers polled, 45% said they made an offer on a house they "hadn't seen in person". Bottom line, milliennials who grew up using the internet are far more likely to rely on information they find online than other generations.
So with this hot demand and a new generation of homebuyers out there, what's holding you back from selling your home? There are many great Realtors and lenders in the area who would love to help you explore your options.
Remember, at Fidelity Land Title Agency, we're always here to answer your questions. If you would like to discuss more feel free to reach out to me.
– David Kennedy